RealSelf is a place where people can share stories and information about cosmetic and elective treatments. One of the most powerful stories we've seen comes from Zach Moore about his weight-loss surgery and subsequent procedures.
Moore's journey began in 2014, as he shared in his review, "Weight-loss surgery saved my life." 
Before surgery, Moore weighed almost 500 pounds and was told by doctors that he had to lose weight or he wouldn't live.
"I didn't know how long I had for a while there," he told us. "My son was 5 years old at the time, and I didn't want him growing up visiting a tombstone."
After losing a significant amount of weight — 350 pounds — Moore was left with a lot of excess skin.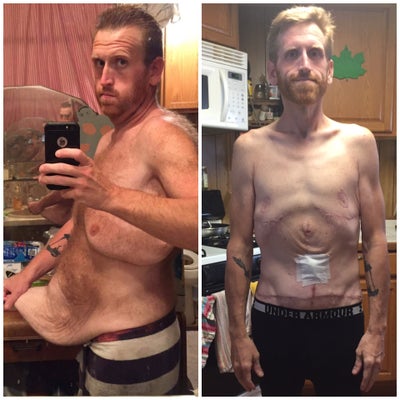 Dr. Thomas Trevisani was his plastic surgeon, and Moore's story was even featured on the TV show "The Doctors." His many surgeries included a tummy tuck, hernia repair, extensive muscle repair, butt lift and male breast reduction. 
We talked with Moore to find out how he's doing. He told us that while he's had some other medical issues, he's staying positive and dedicated to "be a better human."
How are you doing?
Doing amazing. I'm enjoying life. I've lost 350 pounds, so I've taken my entire life back following gastric bypass. I had plastic surgery and I had complications. It took a while to recover from that. They found an umbilical hernia during the [tummy tuck] surgery, which they didn't really foresee. I recently needed knee replacement and broke a foot. Once I recovered from those, the hernia popped out. So I had my 10th surgery in 10 months, from the plastic surgery to that. So it was a difficult time.
Related: Real stories: 'Why I decided to get a tummy tuck'
How do you feel after weight loss and plastic surgery?
I got my life back. I would have been dead. The reason why I decided to lose weight is so I can run, hike, play games with my kid, get on an airplane, have a normal life. It's an amazing story that I've been through, with ups and downs and growing pains. Every month, every week, my life is always changing for the better.
What's next?
I'm slowly trying to raise funds for an arm lift and leg lift [to remove excess skin] with a YouCaring page. Because of all the surgeries I've had, I don't want to jump back into it, because of all the muscle degeneration in my legs. I've got to build the muscle back up after all the bed rest and surgeries.
Related: 10 people tell us: 'How I paid for my plastic surgery'
Do you have any advice?
The biggest thing that I tell people is do what's right for you. I don't know the details of everyone's life, but they do. If you're trying to lose weight and you're cheating, it's not going to benefit yourself, and you're lying to yourself.
Think before you eat: Is this going to help you? If you put a gallon of bleach in your car, it's not going to run right. If you're having a hard time with eating too fast, use kid silverware. It'll force you to go slower!
I'm living proof that anything's possible, just stay in the right mind-set.
Questions about cosmetic or elective procedures? Ask a doctor.