CoolSculpting is a popular treatment for reducing body fat without surgery. A walk-in and walk-out treatment, it can be used on the abdomen, love handles, thighs, back, bra fat, upper arms, and underneath the chin, with the CoolMini attachment.
While freezing fat with little to no downtime sounds great, we often get the question: Does CoolSculpting really work?
To date on RealSelf, more than 1,100 people have told us that, yes, it does. CoolSculpting has an 80 percent Worth It rating. We picked our three favorite recent reviews from people about CoolSculpting to show some real results. 
Stubborn belly fat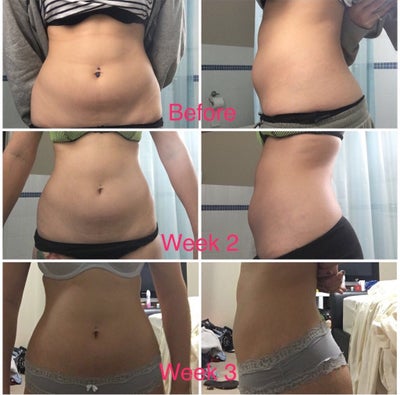 Review: "25 No Kids — Want That Little Pooch Gone! 5'3 62kg"
Not Sure
Price: $2,067
Like many of us, this reviewer wanted to get rid of some stubborn body fat around the belly. She found CoolSculpting to be mostly pain-free. "I would say the only 'pain' I felt was after the massage when all the blood was rushing back to the surface," she wrote on RealSelf.
She adds that there was some soreness after the treatment, too. "My lower belly is sore to bend down and touch, and sore when it jiggles," she said on day four.
Even though she's still "not sure" it was worth it, at 20 days post-treatment, her latest update sounds positive: "You can see in the side picture, the bulge is definitely getting flatter!"
Related: CoolSculpting is now FDA-cleared to tighten skin under your chin
 Inner thighs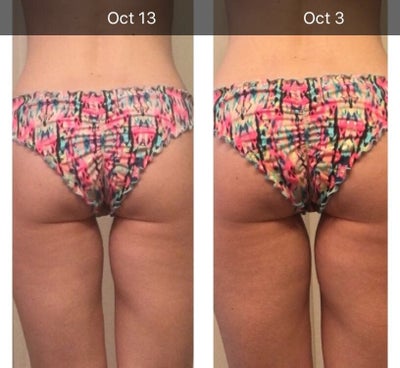 Review: "CoolSculpting — inner thighs"
Worth It
Price: $1,285
"I work out and eat healthy, but have always had a stubborn fat pocket in my inner thigh," says this reviewer. She experienced no pain or bruising with CoolSculpting, but she did find that the treated areas were numb for at least four weeks afterward.
"Totally worth it!" she wrote on RealSelf one month post-treatment. "If you have been thinking about CoolSculpting, go for it. I have my thigh gap back!"
Related: Find out what CoolSculpting costs near you
 Flanks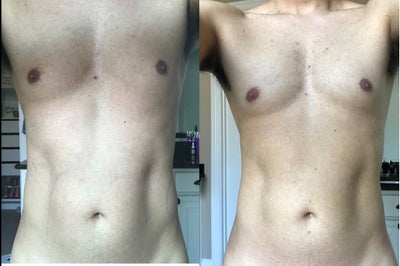 Review: "38 Yo Fit Male Trying to Lose Fat on my Abs & Flanks — Dallas, TX"
Worth It
It's not just women who want a slimmer torso. "I work out consistently and have over the past few years toned my body," wrote this reviewer. He'd lost a lot of body fat with diet and exercise, but still felt self-conscious about his stomach and love handles.
About a month after treatment, he shared results on RealSelf. "Within a couple of weeks, I lost my flanks, and since then I do see a bit of a difference in my belly as well. To have such promising results at five weeks is exciting!"
Ready to try it? Find a CoolSculpting provider near you.